Leadership
The Kovenco Leadership team blends a history of industry expertise with visionary thinking. A company that understands where it fits in the markets and in society and appreciates its responsibility to both. The Leadership team is championing the next generation of Technology, Consulting and Outsourcing. What drives great organizations? Kovenco is committed to uncovering the key ingredients to help our clients become high-performance businesses. We offer a compelling set of practical insights for organizations that aspire to high performance.
This digital revolution has been enabled by the substantial communication network and infrastructure investments that are now – and will continue to be – the lifeblood of the global digital economy. The U.S. with Europe and Asia has set the pace of global technology infrastructure investments thanks to a progressive, consumer-centric regulatory agenda that has been unified, light-touch, and reliant on platform and technology competition. The end result is global consumers are now more empowered and influential than ever before, and are benefitting from one of the most robust ecosystems of investment and innovation in the world. As we look to the future, all of today's global digital players must continually fight for a 21st century regulatory agenda that prioritizes the consumer and promotes the capital investments needed for this next great wave of change.
Leadership Team

Jonathan May
Non-Executive Chairman
Appointed: Jonathan May was appointed to the Board in July 2014 and as Non-Executive Chairman in September 2015.
Experience: Jonathan is a highly experienced board-level executive with experience across a number of sectors including technology, industrials, chemicals and mining. During his career he has been Chief Strategy Officer of Anglo American plc and spent over 20 years at ICI, working within its fertiliser, petrochemical and paint businesses. Jonathan is currently Senior Independent Non-Executive Director and Chairman of the Remuneration Committee of Aggreko plc, Senior Independent Non-Executive Director and Chairman of the Remuneration Committee of Spectris plc, Chairman of Hummingbird Resources plc and Senior Independent Non-Executive Director of Interserve plc. He is also a senior adviser to Heidrick & Struggles.

Seema Choudary
Non-Executive Director
Appointed: Seema Choudary is a founding member of Kovenco Group and joined the Group in 2002.
Experience: Seema was a cofounder of Kelso Place Asset Management LLP and was previously a Managing Director of Goldman Sachs International in its Fixed Income, Currencies and Commodities Division.
Seema is currently Managing Partner of Kelso Place Asset Management LLP, a private equity firm specialising in acquiring controlling interests in UK based companies.

Patrick Pouyanne
Chief Executive Officer
Appointed: Patrick was appointed to the Board as Chief Executive Officer on 1 October 2008, having served as Chief Operating Officer since joining the Group in November 2006.
Experience: Patrick was previously Global Engineering Director of Honeywell's Electronic Sensing business from 2003 to 2006 and Operations Director of Invensys Energy Systems from 1998 to 2000, until he became Development Manager at HP/Agilent Technologies in 2000. Prior to that, Patrick had operations, development and manufacturing roles at Schlumberger Industries between 1985 and 1997.

John Heath
Chief Financial Officer
Appointed: John Heath was appointed to the Board in January 2016.
Experience: John Heath has held the position of CFO for a number of FTSE listed companies and privately equity technology businesses, most recently Imagination Technologies Group plc. John is a Fellow of the Institute of Chartered Accountants in England and Wales and holds an MBA from Henley Business School and an MA in Economics from Oxford University.

Mike Young
Group Vice President Global Technology & Operations
Mike leads all of Kovenco's customer-facing and Internal Operations, Security and Information Technology teams including Operations Control Center, Cybersecurity, Cloud, VMO, Data Centers as well as Network Engineering and Corporate IT services.
Mike has more than 30 years of experience in running High Scale Global Transformation Projects at Global, National and Mission-Critical level. His previous roles included Senior Vice President, HRM & IT Director for JPMorgan Chase, Deutsche Bank, Telus, Sunguard Data Centers across North America.
Mike holds an MBA from London School of Economics and Political Science (LSE) and an Bachelor of Law from Cambridge University.

Nina Thomas
Vice President Human Resources & Administration
Nina leads Kovenco's Performance Management, Recruitment, Compensation, Leadership and Change Management initiatives to create a more open, productive and inspiring environment. A seasoned and vibrant HR business leader with over nineteen years of experience having spearheaded the development, delivery and deployment of numerous strategic HR programs. Prior to joining Kovenco Group, Nina led human resources and labour relations initiatives at TELUS, JPMorgan Chase, Deutsche Bank, Sprint Canada Inc and St. Michael's Hospital.
Nina holds a Bachelor of Arts from York University, a Certified Human Resource Leader (CHRL) and an active member of the Human Resource Professional Association (HRPA).
Senior Management
Marion Voss
Group Chief HR Officer
Marion joined Kovenco in 2012 with significant HR experience gained across a number of market sectors. Has previously held senior executive positions with IBM, Colt Technology Services and recently Thales, in addition to being a member of a number of Divisional Management Boards.
Steve Wilson
Head of Group Strategy
Steve joined Kovenco in 2002 to manage the company's portfolio of TETRA products, later expanding his role to encompass management of interoperability and standardisation across the whole group. He has more than 20 years' experience in the technology and digital PMR industry and over 13 years in digital fixed line communications. Prior to joining Sepura, Steve held a variety of technical and operational positions at Simoco, ACIS, GEC-Marconi and BT Global Services.
Michelle Purchase
Head of Marketing
Michelle joined Kovenco in 2015 with 20 years' experience of leading global marketing teams across a number of international markets. Prior to joining Kovenco, Michelle held a variety of management positions at public and privately owned technology organisations such as Ciba Geigy, Huntsman, TWI and The MathWorks.
Manny Paul
Head of Service Management
Manny leads Kovenco's Service Management initiatives to create a more open, productive and inspiring environment. He is a vibrant global IT Leader with over 20 years of experience having spearheaded the Service, Development, Delivery and Deployment of numerous IT Service Management Programs for global clients.
He has been instrumental and tasked with introducing pragmatic Service Management processes that has strategically aligned with the SIAM operating model leading Service Management comprising, Incident, Problem, Change, Release, Configuration, Service Design, Service Transition, Knowledge, Service Level & Business Relationship Management for GE, HPE, CIBC, Loblaws, Telus, Sprint Canada, Bank of America, St. Michael's Hospital and Ministry of Defence Operations.
Manny holds a Bachelor of Science from University of Birmingham (UK), is a Certified Project Manager (PMP) and an active member of the IT Service Management Forum (Toronto Branch) and Project Management Institute
Serge Mfumuangani
Head of Technical Design & Architecture
Serge is a modern business and technology systems architect and consultant that is driven by customer experience to utilize technology to transform business, increase revenue and profitability and improve the competitive position of a business. He provides strategic leadership, offering both conceptual and practical solutions and recommendations.
With a wealth of experience Serge focuses on the synergy and cross discipline integration of customer experience, cloud, webscale, iot, data science including analytics, information technology, security architecture, artificial intelligence, cognitive science, neuroscience, robotics and artificial creativity.
Serge holds a Bachelor of Science in Electrical Engineering from University of Sherbrooke (Canada) and is a Cisco Certified Internetwork Expert (CCIE). He possesses vast experience in developing, integrating and deploying Web, Mobile application, VOIP, IP solutions, Network and Telecommunication infrastructures a member of (IEEE) and is multilingual in French.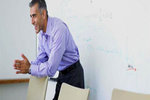 Institute for High Performance
The Kovenco Institute for High Performance develops and publishes practical insights into critical management issues and global economic trends. Its worldwide team of researchers connects with Accenture's consulting, technology and outsourcing leaders to demonstrate how organizations become and remain high performers through original, rigorous research and analysis.
Our organization has been turning technology innovation into business results for 20 years. We explore new and emerging technologies and identify opportunities for large enterprises to apply them to break new ground and get ahead of the competition. We help organizations share their technology strategies to take advantage of disruptive innovations, rather than being shaped by them. The IIoT will transform companies and countries, opening up a new era of economic growth and competitivenes.
Leadership Overview Background Key Findings Recommendations Authors Leadership Ensembles Disrupt Traditional Management E-mail Print Share Share on facebookShare on twitterShare on linkedinShare on pinterest_share Save Leaders of global companies confront a world of differences, even within their own ranks. Different languages, cultures and experiences bring a set of challenges that are unique to the modern age. A key challenge facing leaders is how to deal with those differences while steering the company in one direction. More so now than ever before, top teams have to knit together their far-flung organizations, ensuring that their businesses and markets are strategically united and that operations are in sync. How can companies bridge significant differences at the top without losing the vitality and creativity that comes with diverse perspectives? The commonplace executive board composed of a CEO and his or her direct reports and a handful of standing committees no longer suffices. Some leading companies are meeting this challenge through a leadership ensembles approach.